Black Country Core Strategy Issue and Option Report
Ended on the 8th September 2017
(1)
Appendix A Black Country Local Plan Documents
Dudley
Brierley Hill Area Action Plan – 2011
Halesowen Area Action Plan – 2013
Stourbridge Area Action Plan – 2013
Community Infrastructure Levy - 2015
Dudley Borough Development Strategy – 2017
Sandwell
Smethwick Area Action Plan – 2008
Tipton Area Action Plan - 2008
Site Allocations and Delivery Development Plan Document (2011-21) – 2012
West Bromwich Area Action Plan – 2012
Community Infrastructure Levy - 2015
Walsall
Walsall Unitary Development Plan (saved policies) - 2005
DRAFT Site Allocation Document (submitted June 2017)
DRAFT Walsall Town Centre Area Action Plan (submitted June 2017)
Wolverhampton
Wolverhampton Unitary Development Plan (saved policies) – 2006
Bilston Corridor Area Action Plan – 2011
Stafford Road Corridor Area Action Plan – 2011
Wolverhampton City Centre Area Action Plan – 2016
Tettenhall Neighbourhood Plan – 2014
Heathfield Park Neighbourhood Plan - 2014
(1)

Appendix B Black Country Housing Trajectory
| | | | | | |
| --- | --- | --- | --- | --- | --- |
| Year | Black Country Core Strategy Housing Target | Actual Completions / Trajectory | Cumulative Core Strategy Target | Cumulative Actual to Date | Cumulative Trajectory |
| 2006/7 | 2625 | 2838 | 2625 | 2838 | |
| 2007/8 | 2625 | 1829 | 5250 | 4667 | |
| 2008/9 | 2625 | 1415 | 7875 | 6082 | |
| 2009/10 | 2625 | 2642 | 10500 | 8724 | |
| 2010/11 | 2626 | 1951 | 13126 | 10675 | |
| 2011/12 | 2625 | 2457 | 15751 | 13132 | |
| 2012/13 | 2625 | 2296 | 18376 | 15428 | |
| 2013/14 | 2625 | 2145 | 21001 | 17573 | |
| 2014/15 | 2625 | 3129 | 23626 | 20702 | |
| 2015/16 | 2635 | 2549 | 26261 | 23251 | 23251 |
| 2016/17 | 2448 | 3206 | 28709 | | 26457 |
| 2017/18 | 2448 | 4801 | 31157 | | 31258 |
| 2018/19 | 2448 | 4854 | 33605 | | 36112 |
| 2019/20 | 2448 | 4688 | 36053 | | 40800 |
| 2020/21 | 2448 | 4340 | 38501 | | 45140 |
| 2021/22 | 4899 | 4295 | 43400 | | 49435 |
| 2022/23 | 4900 | 4203 | 48300 | | 53638 |
| 2023/24 | 4900 | 4159 | 53200 | | 57797 |
| 2024/25 | 4900 | 4015 | 58100 | | 61812 |
| 2025/26 | 4901 | 3946 | 63001 | | 65758 |
| 2006-26 | 63001 | 65758 | 63001 | | 65758 |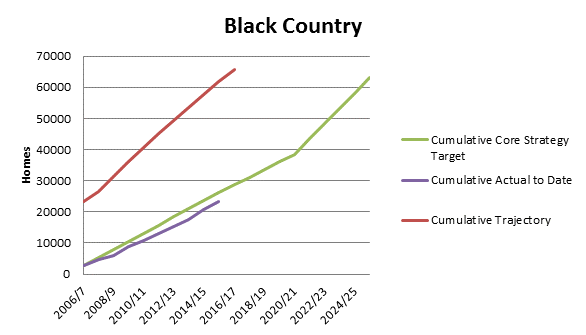 Appendix C Black Country Monitoring Summary
Net new homes




Target Period / Year

BCCS / Local Authority Target

Completions at 2016

Overall Progress

Dudley

2006 -2016

8112

5652

-2460

Sandwell

7421

7168

-253

Walsall

5067

6137

1070

Wolverhampton

5662

4266

-1396

Black Country

26262

23223

-3039

High Quality Employment Land (ha)




Target Period / Year

BCCS / Local Authority Target

Baseline (2009) Ha

HQ Ha at 2016

Change in HQ at 2016 from Baseline

Overall Progress against target

Dudley

2016

197

158

158

0

-39

Sandwell

289

174

174

0

-115

Walsall

149

98*

122

+24

-27

Wolverhampton

224

123

187

+64

-37

Black Country

859

553

641

+88

-218

Local Quality Employment Land (ha)




Target Period / Year

BCCS / Local Authority Target

Baseline (2009) Ha

LEL Ha at 2016

Change in LEL at 2016 from Baseline

Overall Progress against target

Dudley

2016

580

669

602

-67

22 surplus

Sandwell

923

1059

990

-69

67 surplus

Walsall

519

731*

616

-115

97 surplus

Wolverhampton

526

629

486

-143

- 40

Black Country

2548

3088

2694

-394

146 surplus

Gross Employment Land (ha)




Target Period / Year

BCCS / Local Authority Target

Baseline (2009) Ha

Gross Ha at 2016

Change in Gross Employment Land at 2016 from Baseline

Overall Progress against target

Dudley

2016

777

827

760

-67

-17

Sandwell

1214

1251

1164

-69

-50

Walsall

658

829*

738

-91

80 surplus

Wolverhampton

743

752

673

-79

-70

Black Country

3392

3659

3335

-297

-57

New Office Floor Space in Strategic Centres (sqm)




Target Period / Year

BCCS / Local Authority Target

Completions at 2016

Overall Progress Against Target

Dudley

2006-2026

220,000

0




Sandwell

13467

Walsall

10368

Wolverhampton

4409

Black Country

28244

-191,756

Additional Comparison Floorspace (sqm)




Target Period / Year

BCCS / Local Authority Target

Completions at 2016

Overall Progress Against Target

Brierley Hill

2006-2021

65,000

0

-65000

West Bromwich

45,000

15593

-29407

Walsall

60,000

3368

-56632

Wolverhampton

70,000

4333

-65667

Black Country

240,000

23294

-216,706

Hectares accessible open space per 1,000 population




Target Period / Year

BCCS Target

Baseline OS provision (Ha per 1000 population)

2016 baseline OS provision (Ha per 1000 population)

Change in OS Provision (ha per 1000 pop'n) at 2016

Overall Progress Against Target (Ha per 100 population)

Dudley

2006 - 2026

5.08

4.51 (2009)

4.51

0

-0.57

Sandwell

4.42

3.42 (2007)

3.90**

+0.48

-0.52

Walsall

5.00

5.00 (2006)

4.55

-0.45

-0.45

Wolverhampton

4.74

4.63 (2007)

4.95

+0.32

+0.21

Black Country

19.24

17.56

17.91

0.35

-1.33
* Walsall employment land 2009 baseline figures have been reassessed since adoption of the Core Strategy in light of more detailed information
** Sandwell 2016 figure based on Green Space Audit 2013 and population figures from Census 2011
Appendix D Abbreviations
AAP Area Action Plan
CIL Community Infrastructure Levy
EDNA Economic Development Needs Assessment
EIG Environmental Infrastructure Guidance
HIA Health Impact Assessment
HMA Housing Market Area
NPPF National Planning Policy Framework
OAN Objectively Assessed Housing Need
SAD Site Allocations Document
SHMA Strategic Housing Market Assessment
SHLAA Strategic Housing Land Availability Assessment
---
[1] Retail development (including warehouse clubs and factory outlet centres); leisure, entertainment facilities the more intensive sport and recreation uses (including cinemas, restaurants, drive-through restaurants, bars and pubs, night-clubs, casinos, health and fitness centres, indoor bowling centres, and bingo halls); offices; and arts, culture and tourism development (including theatres, museums, galleries and concert halls, hotels and conference facilities).
[2] Walsall Council identifies Town Centres as District Centres in the saved Walsall UDP.
[3] Through Walsall's emerging Site Allocation Document a new local centre has been identified – Blackwood Local Centre.
back to top
back to top